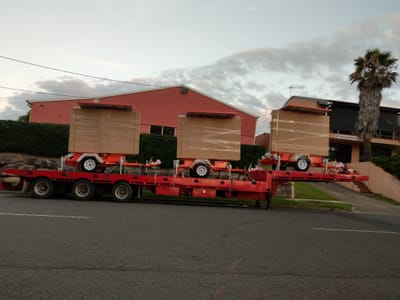 Tilt Tray Truck Transport Brisbane is extensively used in Industries…
Tilt Tray Truck Transport
services are frequently used in Brisbane and its surrounding areas by industries for moving their loads more conveniently and quickly from one destination to another. Some of the prime users of these trucks are small automobile owners who really love the convenience of their vehicle being hauled by a Tilt tray truck in case of break downs. The movable flatbeds attached to these trucks are particularly vehicle friendly, which is not the case with towing trucks which often end up damaging the vehicle during hauling. Another segment of industry which finds a great use for these trucks is the construction industry, which employs these trucks for offloading construction materials on their sites where the construction is being carried on. Even with other miscellaneous goods like timbre, wires and cables, iron girders and all those heavy items which can be offloaded on the ground in a pile, these trucks are ideal for carrying and delivering such loads with a minimum amount of fuss.
Tilt Tray Trucks bring the convenience of movable flatbeds…
Since most of the
Tilt Tray Truck Transport Brisbane
is equipped with all the necessary equipment that might be required during hauling, they are simply the ones that get the job done without any hiccups at all. They even have recovery winches for handling breakdown vehicles and hydraulic rams as well for hauling containers if needed at the work site. And these are just some of the conveniences that these multi utility wonders bring to the fore.
One of the best features of these trucks happens to be their movable flatbeds which allow hauling the load right from the ground level as well without any inconvenience. According to the level of the load, these flatbeds can be lowered and raised to bring them at level with the load base.
They might be a little expensive than conventional tow trucks…
Although hiring these Tilt tray trucks may cost you a notch higher than the usual towing trucks, but if you weigh the conveniences in comparison to the costs, you will definitely favour these anytime, anywhere for your miscellaneous hauling jobs. And especially if you consider the fact that containers can be loaded at ground level, making the job faster and safer, and much easier to handle, choosing a
Tilt Tray Truck Transport Brisbane
is a pretty smart option to go with under all circumstances.