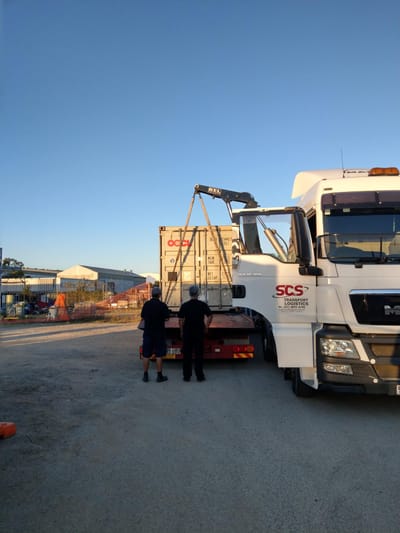 Want a Shipping Container Transport Brisbane…?
If you are looking for a reliable
shipping container transport Brisbane
, your best option for in this regard would be to go for a full service container transport company that can handle transportation of your container loads anytime to any destination from your site. Preferably a company that can carry shipping containers nationwide across land on heavy prime movers in a cost effective and time efficient manner.
To give yourself a wide range of options to pick from, you could also go online for getting a list of good shipping container transport Brisbane and its suburbs. Once you have picked the companies you would like to find out more about, you can simply go to their websites to get a deeper sense of the services that they specialize in and whether those services are suited to your needs or not. Although this method might eat up some of your precious time, but it is definitely a tried and tested way of reaching at the best possible solution.
You need a heavy hauler to fit your needs…
Since shipping containers are generally heavy and super sized loads, you would ideally need a heavy hauler for this purpose in most scenarios. So if you were to narrow down your search more precisely, you would be looking at a company that would have large trailer trucks and 24t prime movers in its fleet to carry your large container loads.
Apart from that, this company should also have heavy hauling crane trucks suitable for lifting shipping containers from the point of pickup and the point of delivery of the containers. Moreover, with such heavy load hauling operations, your ideal choice would be a company that has sufficient resources to handle vehicle breakdowns along the way, so that your container loads are not stuck in transit for a long period of time.
You need a company with a large fleet of heavy movers on standby…
So a smart choice for you would be to go for a company that has an efficient fleet management system in place to handle your container loads at any time with minimum delays. It should also have a well maintained fleet of heavy movers and ample support vehicles to carry out off-loading and on-loading of containers, as well as handling sudden breakdowns in the way. The company should also be able to guarantee you reliable deliveries in a time bound schedule in costs that are well within your budget.
Once you have ensured that all these aspects related to
shipping container transport Brisbane
are met by the company offering these services, you won't have to break a sweat about the delivery status of your containers anymore.