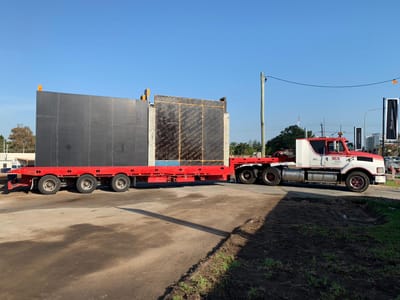 Looking at the Scenario of Heavy Transport Company Brisbane
There is no dearth of transportation solutions in Brisbane. Thanks to the successful execution of high-end infrastructure projects which have geared the effective transportation of different types of machinery. Every renowned Heavy Transport Company in Brisbane is competent in offering heavy haulage services to a wider array of customers hailing from different domains, including construction, mining, refinery, renewable energy and many more. The firms engaged in offering transportation services leave no stone unturned in transporting all the oversized equipment and structures around the globe in a safe and secure way. These agencies possess an excellent amount of expertise in connecting with customers residing in different corners of the world via their suppliers. Whether it's a local heavy lift transport or a long distance ferry, the Brisbane-based Heavy Transport Companies have been successful in winning the hearts of millions of people, who've been on a look out for professional transportation facilities.
Transportation complexity – No bar for Brisbane's Transport Companies
Irrespective of how easy or tedious the geography is, Brisbane's Transportation Company is well abreast with all the technicalities that are associated with lifting and transporting the equipment in a timely and effective format. The specialised handling services offered by the Heavy Transport firms are skilled in moving the heavy freight amid any kind of weather and road conditions etc. The use of vessels and escort vehicles makes it quite convenient. Here's a look at the main services rendered by a reputable
Heavy Transport Company in Brisbane
…
Abnormal/Oversized lifts
A dedicated project manager assigned to each client
Effective route surveys and inspection of sites
100% accredited pilot services
Impressive mobilization and demobilization of lifting vehicles
Result-oriented disassembly and/or reassembly of equipment, as and when required
Advice on cost-saving methods of disassembling, transportation & re-assembling of equipment
Proficient transport engineering
Services from, to and within all metropolitan and intricate areas within Australia
A heavy Transport Company is what you need in Brisbane…
An outstanding attribute of every Heavy Transport Company Brisbane is that it understands the criticality of ferrying the equipment while being conscious about the environment. It is due to this reason that the fleet of vehicles owned by the Brisbane-based transportation companies meets and sometimes even exceeds the regulations for the Australia emissions standards. Moreover, each company has a dedicated permit department that looks into effective documentation of your project. Both, the truck and rail services provided by the transport companies are truly commendable and well in-line with the expectations of the customers.