We take our obligations under the NHVR seriously on mass and dimension limitations. Our operations staff and drivers are inducted into the NHVR mass and dimension limits regulations. The driver is ultimately responsible for ensuring the load mass is managed before leaving a load site. Weight and mass distribution according the axle is important part of our training.
Two visual rules Here are two quick rules about mass management:


Choosing the right vehicle for the load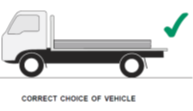 Correct position
The load should not project from the front, sides or rear of a vehicle because it could cause danger to other road users or damage to property.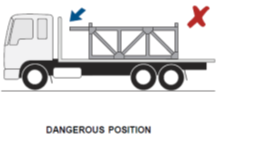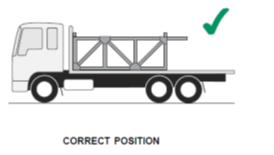 Width, Height, Length
A load that projects beyond the rear of a vehicle by more than 1.2 metres (where Regulations permit) must be made conspicuous in daytime by fixing a brightly coloured flag or piece of material with each side at least 300mm long and at night by a red light which can be seen for 200 metres. Rear overhang limits may also apply. Make allowances for high and wide loads when driving around corners, under bridges, under electric cables, near power poles, traffic lights and other obstructions.
DO remember that the size, type and position of your load will affect the handling of your vehicle.
DO remember that loads can settle and shift during a journey, causing lashings to slacken.
DO check your load before moving off.
DO check your load every time an item is added or removed during the journey.
DO check your load periodically and at routine stops.
DO check your load after emergency braking or swerving.
DON'T take risks.
Centre of gravity – Balance and Mass Management + Axle management
Vehicles carrying liquids and loose bulk material must be designed to completely contain the load and to minimise the effect of load movement on the vehicle's stability. The higher the position of the centre of mass of the load is above the ground, the lower the speed will be at which the vehicle will overturn when cornering (the centre of mass is also called the centre of gravity 'C of G'). Special precautions must be taken when carrying a load with a high centre of mass. The load should be carried on a vehicle with a low platform height (e.g. drop frame trailer or low loader) or on a vehicle with good roll stability.

A load placed against a headboard is easier to restrain, but it can place too much weight on the steer axle and can have a high centre of mass. Heavy loads should not be carried this way. If the front axle is overloaded, the load must be placed further back for better weight distribution and arranged so its centre of mass is as low as possible.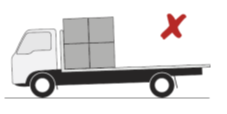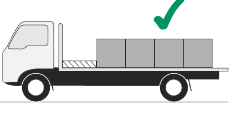 A load should be arranged so its centre of mass is in front of the centre of the rear axle or rear axle group on utilities, trucks and trailers. This will ensure sufficient weight on steer axles to ensure safe steering and not overload the rear axle.